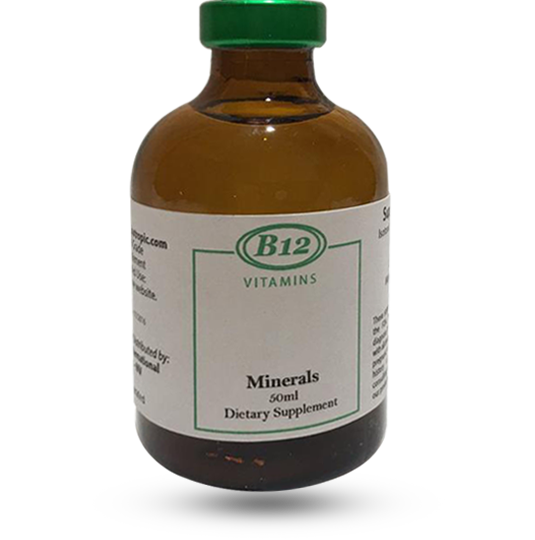 Vitamin B12 Lipotropic
Isotonic Minerals
Now in Larger 50ml Bottles!
Isotonic Minerals
50 ml
Pharmaceutical Grade & Professional Potency OTC Lipotropic Vitamin Supplement
- Proper use of Vitamins
- Electrolyte Balance
- Mineral Repletion
- Stress Management
- Mood Enhancement
-Anti-Aging Support
Product Description
This Isotonic Mineral Complex contains more than 90 minerals, trace elements and organic micro-nutrients. Ionic minerals like these are critically necessary to maintain optimum health and for vitamins to be used properly and effectively. They are considered by some to be the most vital "Missing Link" in any health regimen. Ionic Minerals are the "stimulus" and the "spark" that produce all bodily functions.
Isotonic Minerals Complex Dosaging Protocol
USE AS MIXING SOLUTION FOR ALL OTHER DOSAGING PROTOCOLS – SEE ALL OTHER PRODUCTS
*Individual Results May Vary*
Intended Use: Dietary Supplements
---
Dosage Calculation Table
1 mL = 1 cc
2.5 mL = 2.5 cc = 1/2 teaspoon (tsp)
5 mL = 5 cc = 1 tsp
15 mL = 15 cc = 3 tsp = 1 tablespoon (tbl or Tbsp)
30 mL = 30 cc = 2 Tbsp = 1 fluid ounce (oz)
---
---
Share this Product